When last we met, I was…what? Two days into NaNoWriMo? I suppose I could go to all the trouble of looking at my last post to check the date, but whatever. It's really unimportant. What's slightly less unimportant (because, really, with all the everything going on in the world, nothing I do is remotely important in any way), is that when I last blogged, I was starting another NaNoWriMo session, which means I was embarking upon a wild creative journey of 30 days of writing with abandon in the hopes of writing 50,000 words by the month's end.
Only…I wasn't hoping I would write 50,000 words. In fact, I knew I wouldn't. It's been…not my best year this year, especially creatively speaking, so I was going into November with the understanding that I was going lose but with intention of supporting the wrimos in my region while pretty much pretending to write because my creativity has been in short supply of late.
And yeah. I lost.
But here's the thing.
I wrote. Words. Like, actual words.
Are they good words? Hell, no. Did my characters have a really long and pointless conversation about French toast? They may have. Will that conversation along with everything else I wrote in November end up in some deleted scene file someday? Probably.
Does it matter? No.
It doesn't matter because I wrote them. I wrote a little something every single day for thirty days.
Which means maybe, just maybe, there's still a little spark of something somewhere in the dark and cold pit that is my dried-up well of creativity.
So while I did fall well short of the 50k mark, I feel like I maybe had a different kind of victory this month. Smaller and more personal, but a win in its own way.
Whether that will change anything for me later on down the road remains to be seen. I mean, it's only December 7th and it already feels like that November productivity was nothing more than some weird fever dream and I will never write another word ever again. Because it's December 7th and I haven't written a word since November ended. Which means I probably have to think some deep and meaningful thoughts about the writing world and my place (or lack there of) in it.
Or, you know, hide under a blanket under my desk instead. Whatever.
But at least I made it through November.
Before I sign off, I want to give a shout-out and all the high fives to all my writer friends who did manage to win NaNoWriMo this year. You all are amazing and awesome and so creative and I salute your perseverance!

WAY TO GO, Y'ALL!!!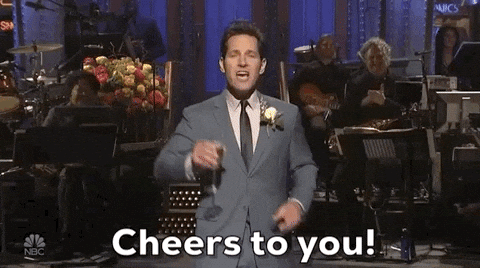 ONE LAST THING…
Knowing me the way that I do, this will very likely end up being my last post of 2022. So however you choose to celebrate this time of year, I hope that you and your families are safe, happy, and well.
Hope to see y'all again in the new year.