September, 2020
now browsing by month
Hey, everyone!
Today, I'm excited to be taking part in a blogshop celebrating the release of Frozen Crimes, the fifth book in Chrys Fey's Disaster Crimes series!
(click HERE for a complete list of participants)
Participants were asked to respond to the following question…
With whom would you want to be stuck during a blizzard, and what would you do?
I gave this a lot of thought, and I have decided to go with Chris Evans. But not just any Chris Evans. Superhero Chris Evans.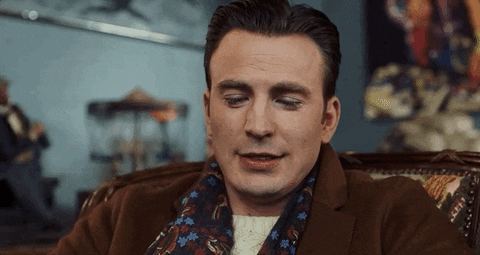 (And no. This selection has nothing to do with that whole recent kerfuffle about certain pictures being accidentally made public. I don't pay attention to that shit.)
First, let's start with Chris Evans, Human Torch.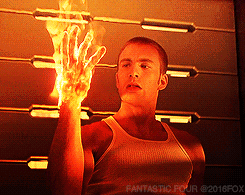 He'll be super helpful when the power's knocked out for who knows how long and you need to start a fire.
Next up is Chris Evans, Captain America.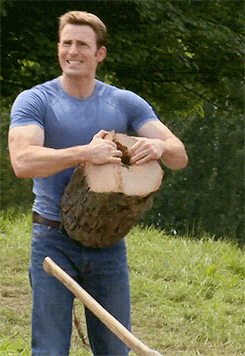 Man doesn't even need an axe to gather firewood. The fact that he looks good doing it is just an added bonus.
And last, but certainly not least is a chef. I don't cook, and I couldn't find any gifs of Chris Evans cooking, so I decided to go with…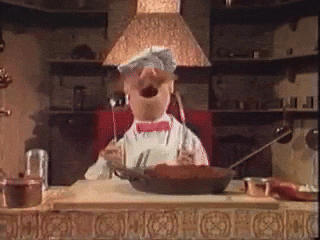 We'd get dinner and show. Can't go wrong with that.
Now comes the best part of this post…
THE PART WITH THE BOOK DETAILS
When disasters strike around every corner, is it possible to have a happily-ever-after?
Beth and Donovan are expecting their first child. Life couldn't get any better…until a stalker makes his presence known. This person sends disturbing messages and unsettling items, but it isn't long before his menacing goes too far.
Hoping for a peaceful Christmas, Donovan takes Beth to Michigan. Days into their trip, a winter storm named Nemesis moves in with the goal of burying the state. Snowdrifts surround their house, and the temperature drops below freezing.
Except, the storm isn't the only nemesis they must face. Everyone's lives are at stake—especially that of their unborn child. Will they survive, or will they become a frozen crime?
NOW AVAILABLE AT
Amazon | Barnes & Noble | iTunes
***HUGE DISASTER CRIMES GIVEAWAY***
Prizes: 4 eBooks (Disaster Crimes 1-4: Hurricane Crimes, Seismic Crimes, Tsunami Crimes, Flaming Crimes) + Girl Boss Magnets (4), Inflatable Cup Holder (1), Adventure Fuel To-Go Cups (2), Anchor Fashion Scarf (1), Mermaid Nail Clippers (2), Citrus and Sea Salt Scented Candle (1), Snowflake Handmade Bookmark (1), Insulated Cooler Bag (1)
Eligibility: International
Number of Winners: One
Giveaway Ends: October 30, 2020 12:00am EST
CLICK HERE TO ENTER
***FREE EXCLUSIVE EBOOK***
To get the exclusive prequel to the Disaster Crimes series, sign up for Chrys' newsletter. By signing up, you agree to receive Chrys Fey's newsletter. After you confirm subscription, you will receive an email (so check your inbox and spam folder) with directions on where to snag your eBook copy of THE CRIME BEFORE THE STORM.
ABOUT THE AUTHOR
Chrys Fey is author of the Disaster Crimes Series, a unique concept that blends disasters, crimes, and romance. She runs the Insecure Writer's Support Group Book Club on Goodreads and edits for Dancing Lemur Press.
Today, we're welcoming author Patricia Lynne who's revealing brand-new, pretty, pretty covers for three of her novels.
Tommy forgot his human life when he became a vampire…but it didn't forget him.
Like all vampires, Tommy must do one thing: survive. With no memory of his life before death, his only connection to humanity is his twin brother. When Tommy rescues a young girl, he learns not all monsters are undead. After returning her to her family, Tommy struggles to understand why he felt so protective of her when she has no connection to him.
As the years pass, and with his twin's help, Tommy moves on with his 'life' but never forgets the young girl or the monster who hurt her. When she re-enters his life as a teenager, Tommy struggles with his vampire need to survive and his desire to protect her. He will be forced to decide which part of him is stronger: The vampire? Or the human? The answer may destroy him.
Armory was raised to hate nature, but not all trees wanted a war.
Armory was born in a world torn apart by the war between man and nature. The threat of another attack looms over Armory and the survivors hidden in the remains of New York City. When Armory is kidnapped, a tree nymph is her unlikely savior.
Birch claims he can return Armory safely home. Can she trust a tree? If she wants to see her home again, she has no choice. As they travel across the wasteland of America, Armory meets both humans and trees who want the fighting to stop.But the hatred between man and nature may be too deep of a wound to heal. In a world destroyed by hate, can Armory and Birch's friendship change minds and forge peace? Birch has a plan to make it happen. He's just not sure he'll survive.
Cyclop can see other people's futures, but his own is clouded by a past he can't escape and a man he calls Master.
It's not Cyclop's albino skin and mismatched eyes that make him stand out, but his ability to see the future and a dark past he escaped. Only those close to him know his secrets, and with their help, he has carved out a normal life. But his past refuses to let him go, and when the man he calls Master finds him, he is forced to return to his old life.
Imprisoned, Cyclop clings to the hope of freedom. To do so, he must break Master's control over him. Will he find the strength to become the master of his own life? Or is his past destined to be his future?
ABOUT THE AUTHOR
Patricia never set out to become a writer, and in fact, she never considered it an option during high school and college. She was more of an art and band geek. Some stories are meant to be told, and now she can't stop writing. Her young adult stories often have a paranormal, fantasy or sci-fi twist.
Patricia lives with her husband in Michigan, hopes one day to have what will resemble a small petting zoo, and has a fondness for dying her hair the colors of the rainbow. She also writes New Adult Urban Fantasy and Sci-Fi Romance under the name Patricia Josephine.
Website | Goodreads | Amazon Author Page
It's the first Wednesday of the month, which means it's time for another action-packed installment of the Insecure Writer's Support Group.
(If you're new to the IWSG and looking for additional information and/or a complete list of participants, please click on the above link…)
This month's awesome co-hosts are PJ Colando, J Lenni Dorner, Deniz Bevan, Kim Lajevardi, Natalie Aguirre, and Louise-Fundy Blue.
This month's (optional) question asks, "If you could choose one author, living or dead, to be your beta partner, who would it be and why?"
But I'm going to skip the question to instead ramble on about…well, killing our darlings. Or, you know, killing my darlings anyway. You can kill your own darlings.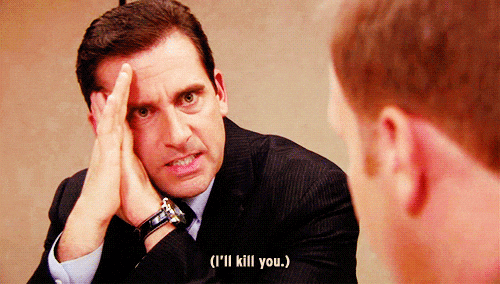 This year is, strangely, the first year in…well, ever, that I've even come close to following the writing schedule I set for myself at the beginning of the year. Meaning, during which months I would work on what WIPs and when those WIPs would be finished and so on and so forth. It's loosely sketched out in January and traditionally has fallen apart by March. It is then endlessly revised throughout the rest of the year to reflect my actual progress (or lack thereof…) on each project.
But this year I haven't had to revise that much (and even managed to publish a book), which means that over the next two months, my main writing focus will be on finishing the first draft of Full Circle (aka, Book Three in my fantasy series).
What I have had to revise, however, is my confidence in my ability to actually do this. For a while, it seemed as though I was getting closer to the end, but now I'm kind of…stuck toward the end of the second act. And the more time I spend staring at my computer monitor and/or storyboard, the more I fear I may have to do the unthinkable…
Kill my darlings.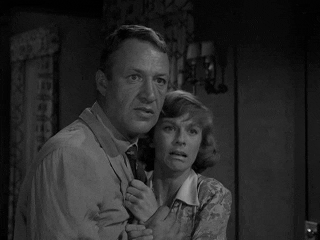 I do assume that anyone reading this post is familiar with this concept, but in the event that it's new to you, killing your darlings is when writers cut things they love from their manuscripts. It could be a beloved character, a plot line, a snarky dialogue exchange, some quirk you bestowed upon a character that's now causing more problems than it's worth, whatever. It's stuff that we, as writers, love and cling to and try everything we can think of to make it work in our WIPs because we don't want to get rid of it.
In my case, it's most often dialogue (you know it's not killing characters. I love to kill characters.). I love writing dialogue and will occasionally (translation: always) get carried away when writing it. Then it occasionally (translation: always) takes me a few rounds of revisions to accept the fact that maybe—just maybe—my characters don't need to have a five-paged conversation about goats when goats serve absolutely no purpose in the story whatsoever.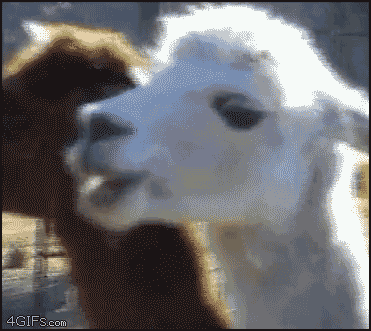 (Side note: some of you know why I'm mentioning goats here, and to those of you I say…THAT STUPID CONVERSATION IS STILL IN THIS STUPID WIP.)
But until I reach/accept that realization, I will copy and paste that conversation (Other conversations. Not the goat conversation. That stupid conversation is apparently here to stay.) in every damn scene I can, trying to find the place where it fits. Even if it doesn't fit anywhere.
Which is, sadly, what I think is happening here.
I don't think I'm going to make it to the revision phase. This time, I think those darlings are going to have to go before the revision phase because I'm just not getting anywhere.
Despite all my plotting, this WIP has taken a few turns that has made some storylines obsolete. It happens, and I know it's going to happen, but I guess I am just stubborn enough to think I can out-stubborn my characters (ha.) and that they will relent and just do what I want how I want and say what I want while doing it.
(Spoiler alert: they won't.)
So that's where I'm at right now. Torn between wanting to achieve a goal and wanting to cling to the last remnants of gone-but-not-forgotten storylines.
Which will win?
Thanks for stopping by today. I'll try to do better the next time.
Stay safe out there.